A guide to celebrating Filipino arts and culture
The month of October holds a significant place in the hearts of many Filipino Americans across the nation. The annual celebration serves to provide a link between Filipinos in the United States and in the Philippines by showcasing their shared culture and heritage.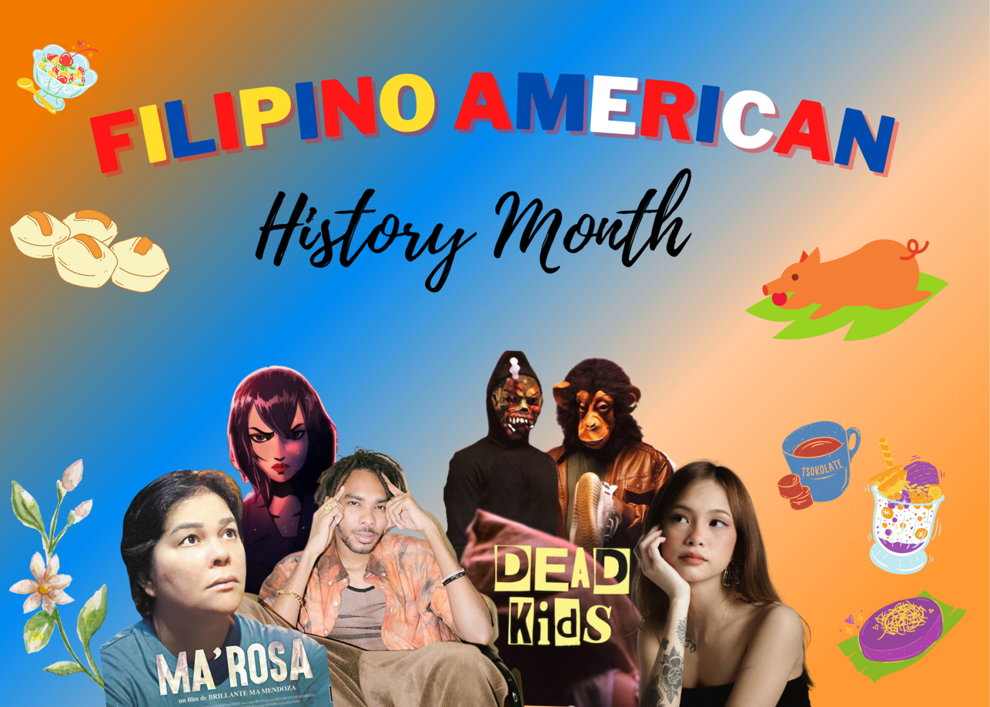 Here are some fun ways that the Titan community can honor, recognize and celebrate Filipino culture in Fullerton.
Food Spots to Try
The Original Barrio Fiesta of Manila (10 minute drive from CSUF)
Address: 1199 N Euclid St. Anaheim, CA 92801
If customers want to eat authentic and delicious Filipino food, this is the best place to check out. Barrio Fiesta offers a wide selection of food, from guilty pleasures such as the crispy pata and kare-kare, all-time favorite soups like sinigang and nilaga, and even delightfully satisfying desserts such as halo-halo and halaya ube. There is no shortage of delicious indulgences to try here.
Pro tip: Patrons must try the most popular and iconic dish of the restaurant: "crispy pata" – pork leg boiled until tender and then deep-fried until it is golden and crisp – in order to fully immerse themselves in their food journey. It is one of the most sinfully delicious delicacies the Philippines has to offer.
Ube Belly (10-15 minute drive from CSUF)
Address: 1715 W Chapman Ave Orange, CA 92868
All day breakfast? Say no more. Ube Belly has got you covered. This little gem is clean, organized and, best of all, they serve the most scrumptious Filipino breakfast item: "tapa" or thinly-sliced cured beef. In addition to their typical Filipino dishes, they also serve Filipino-inspired desserts such as a variety of ube pastries.
Kapit Bahay (10-15 mins drive from CSUF)
Address: 615 N Euclid St Anaheim, CA 92801 
In the Filipino language, "kapit bahay" means "neighbor." For Filipinos, neighbors are like family so that is exactly how you are treated in this cozy and warm restaurant. The staff are incredibly friendly and the food is beyond mouthwatering. They offer more or less similar food choices as Barrio Fiesta. Customers can also enjoy their to-go entree combos if they are feeling frugal, or opt for their pre-packaged snacks for a more convenient transaction.
Movies to Binge
"Ma' Rosa" (2016)
Jaclyn Jose snatched the title of best actress at the 2016 Cannes Film Festival for her role as a struggling, drug-dealing mother in this film, directed by Palme d'Or nominee, Brillante Mendoza. Exploring small-scale drug dealing, poverty and corruption, the film was described by critic Peter Bradshaw as, "a cold, hard look at what it means to be poor." 
"Ma' Rosa" is especially relevant viewing in light of President Rodrigo Duterte's immense crackdown on drugs in the Philippines. 
"Ma' Rosa" is available to stream on Apple TV.
"Dead Kids" (2019)
"Dead Kids" is the first Netflix Original film from the Philippines. It's a thriller that centers on a socially awkward teen who suddenly gets close to a group of troublemakers with kidnapping plans that go way too far. One of the most intriguing facts about this film is that it is actually based on true events, which further cranks up the thrill and angst the audience will feel while watching the movie.
"Dead Kids" can be streamed on Netflix.
Trese (2021)
"Trese" is not a movie but it deserves a shoutout on this list. It is an anime-influenced show based on a Filipino comic book and it is the first Netflix Original series from the Philippines. The show revolves around main character Alexandra Trese who uses her wits and skills to protect humanity from the criminal underworld composed of seedy mythical creatures. This is a must-watch show for audiences who want to learn more about Filipino folklore and mythology in a fun, and suspenseful way.
"Trese" is available to stream on Netflix.
Artists to add to your playlist
Ruby Ibarra
Ruby Ibarra's intricate lyricism not only showcases her Filipino heritage, but it also sheds light on many important issues such as the struggles of being an immigrant in a first world country. 
The power of her flow and lyrics are beyond words and because of that, she has made a name for herself and worked with notable names in the music industry such as SZA, The Balikbayans and Nadine Lustre.
Her music is available for streaming on Spotify and YouTube.
Massiah
Filipino-Ghanian artist Massiah is a force to be reckoned with. His mixed heritage has resulted in an exciting take on his music, as he merges his two cultures through unique beats and lyrics. Massiah's career is on the rise as he has opened for international acts such as ASAP Rocky, ASAP Ferg and Khalid. He was also featured in an international collective 88rising's project, Paradise Rising. 
Massiah is available to stream on Spotify and YouTube.
Syd Hartha
Syd Hartha's music is like a breath of fresh air. Her songs convey that she wears her heart on her sleeve, but that does not mean she asks for anyone's opinions. She knows full well some of the struggles that women go through and never holds back with her unfiltered lyricism and pop-folk sound. Her songs always include piercing lines that are perfect anthems for all the empowered women of the world.
Check her out on Spotify and Youtube.